OVAL CLUB Guest Services
Check-in & welcome tea service
Check-in procedure can be done while you sit and relax in the 26F exclusive lounge.
Sip the tea of the month, served to welcome you, and take it easy.
*The club lounge is entirely smoke-free.
Breakfast buffet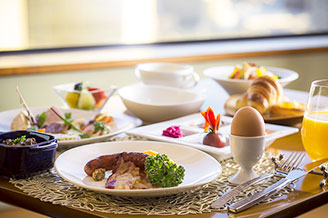 7:00 a.m. - 10:30 a.m.
A delectable, balanced breakfast including the salad of the day, hot soup, and fresh croissants and Danishes baked up that morning by the hotel's boulanger.
Teatime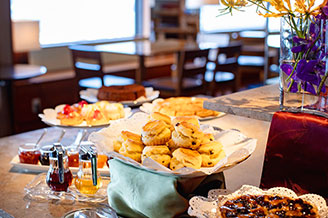 10:30 a.m. - 5:00 p.m.
At welcome teatime, the staff serve you tea with seasonal flavors and sweets that change with the seasons as well.
Savor an elegant and relaxing time with a drink of your choice and delicacies concocted by the hotel patissier.
Cocktail hour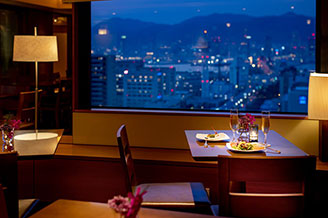 5:00 p.m. - 7:00 p.m.
As the sunset paints the Kobe skyline orange, it's cocktail time in the club lounge.
Feast your eyes on the "$10 million" night view of Kobe while jazz plays in the background.
Enjoy your choice of colorful hors d'oeuvres du jour, wine, and all manner of cocktails.
Nightcap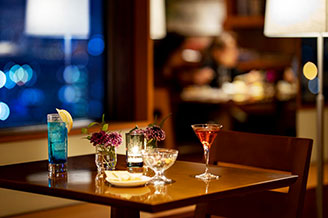 7:00 p.m. - 9:00 p.m.
Quiet time for sophisticated adults.
We offer a private space for you to unwind before bed.
Enjoy your choice of fine whiskies, wines, and cocktails.
*Entry is limited to those aged 18 and over.
Personal Concierge Service
The Oval Club's personal concierge offers thoughtful assistance with every aspect of your stay, including sightseeing information, arranging for tickets, business services such as making copies and sending faxes, and other services for your comfort.
Other Oval Club Privileges
Special offers at Luana Fitness Center and Spa

Complimentary use of pool and fitness center
Sauna discounted to 1,200 yen (tax included) per use
Contact us

Reservation desk (Direct)

+81-78-302-1122

9:00 a.m. - 7:30 p.m.