Concept
The Rokko Mountains, the Kobe skyline, and the sea.
A superb location featuring 360-degree views
from 110 m above the ground.
Stunning night views seen nowhere else.
The scenery here may move your heart
in countless ways…
Indulge in spending emotional moments here.
Concept Movie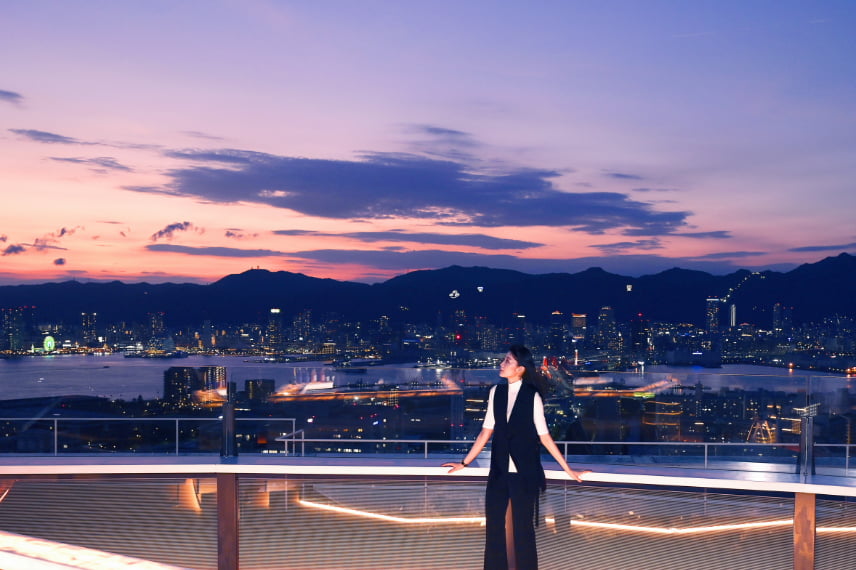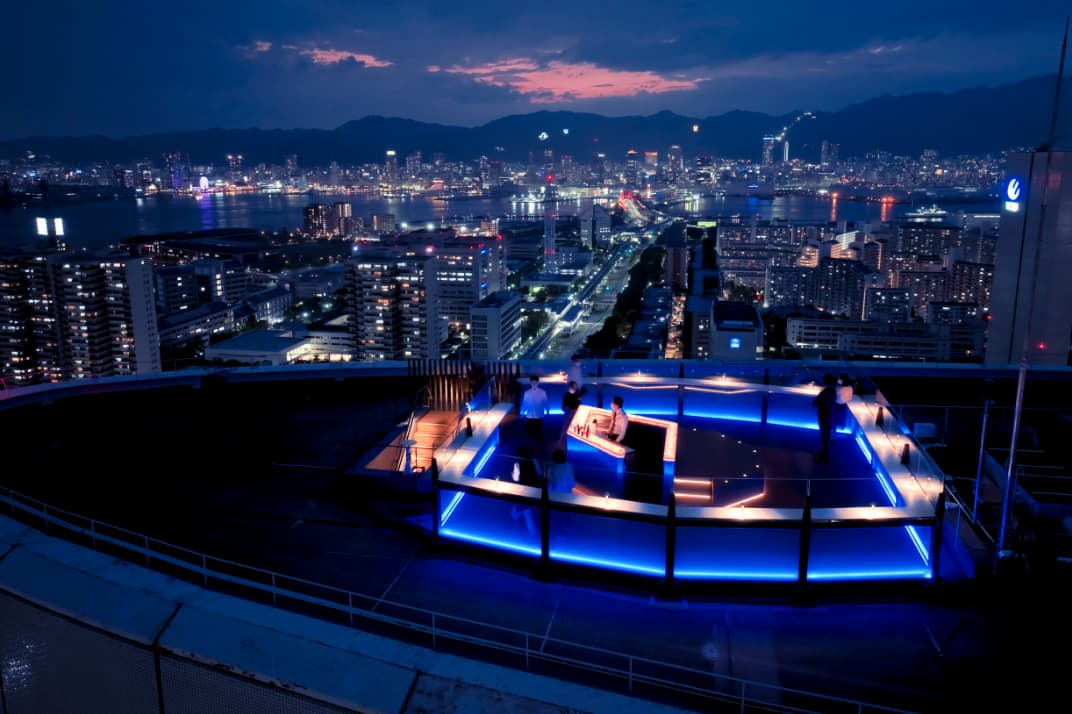 Night
Follow the rays of light up the stairs to the gloriously dazzling view that awaits you.
An array of brilliantly sparkling lights, including warmly lit homes at the foot of Mt. Rokko, the bright red lights of Kobe Bridge against the city lights, Kobe Harborland, and more.
Only Sorafune Kobe offers this expansive night view stretching from east to west.
Lights that shift and change with the season and occasion create unforgettable, emotional moments.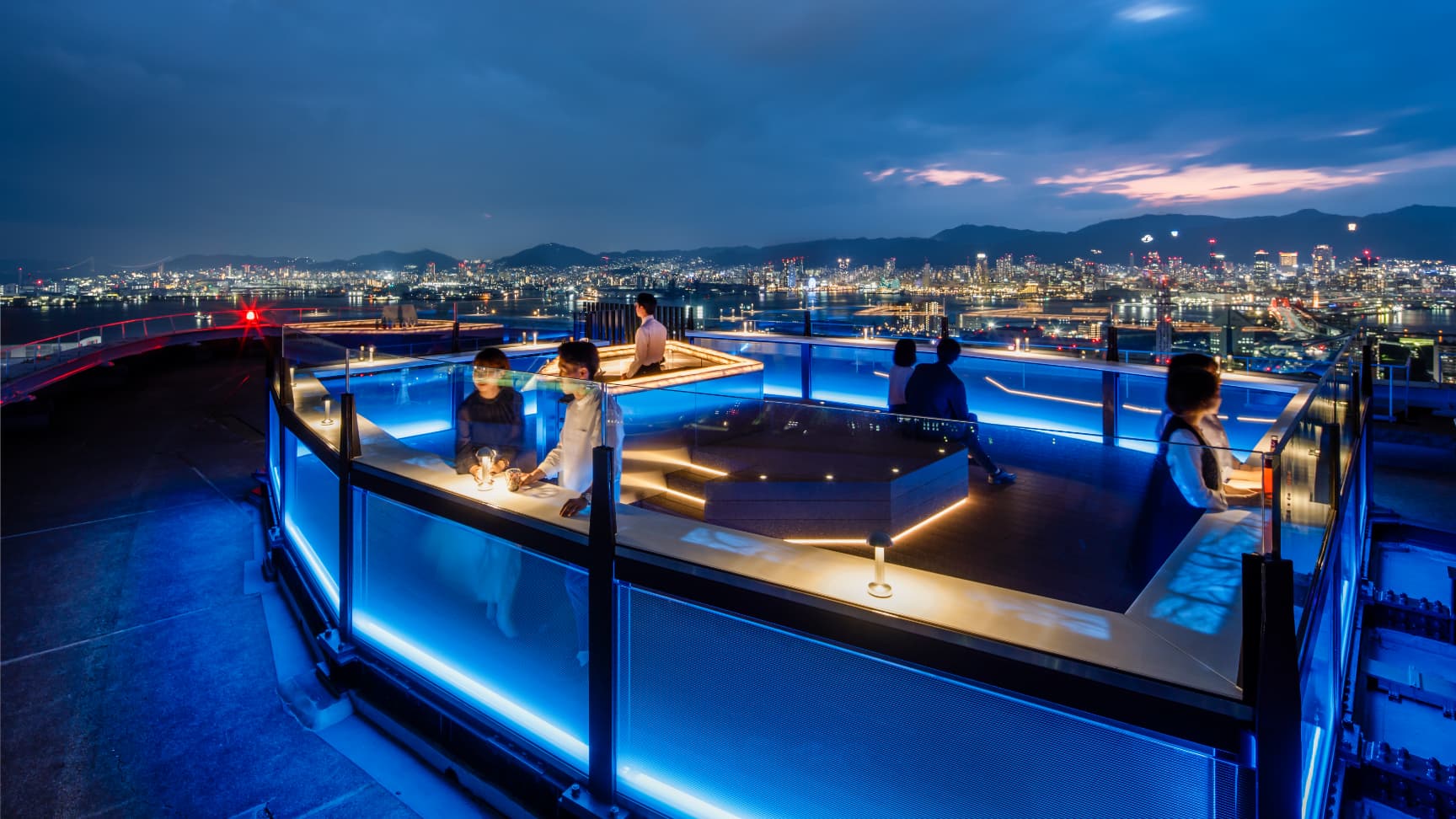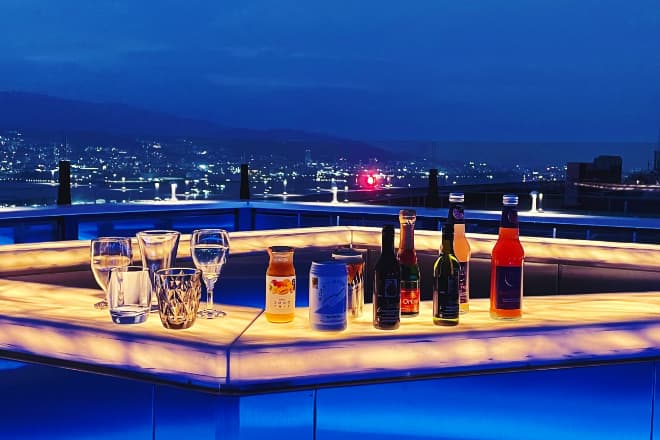 Day
Just like being on the deck of a ship, under the vast blue sky.
Sit on the bench on the wooden deck and appreciate the remarkable Kobe cityscape right before your eyes.
Look to the south to see Kobe Airport and Osaka Bay. On clear days, you can even see Akashi Kaikyo Bridge, Awaji Island and Kansai International Airport.
Views unimaginable anywhere else — airplanes soaring into the sky and ships voyaging back and forth over the open sea — are waiting for you here.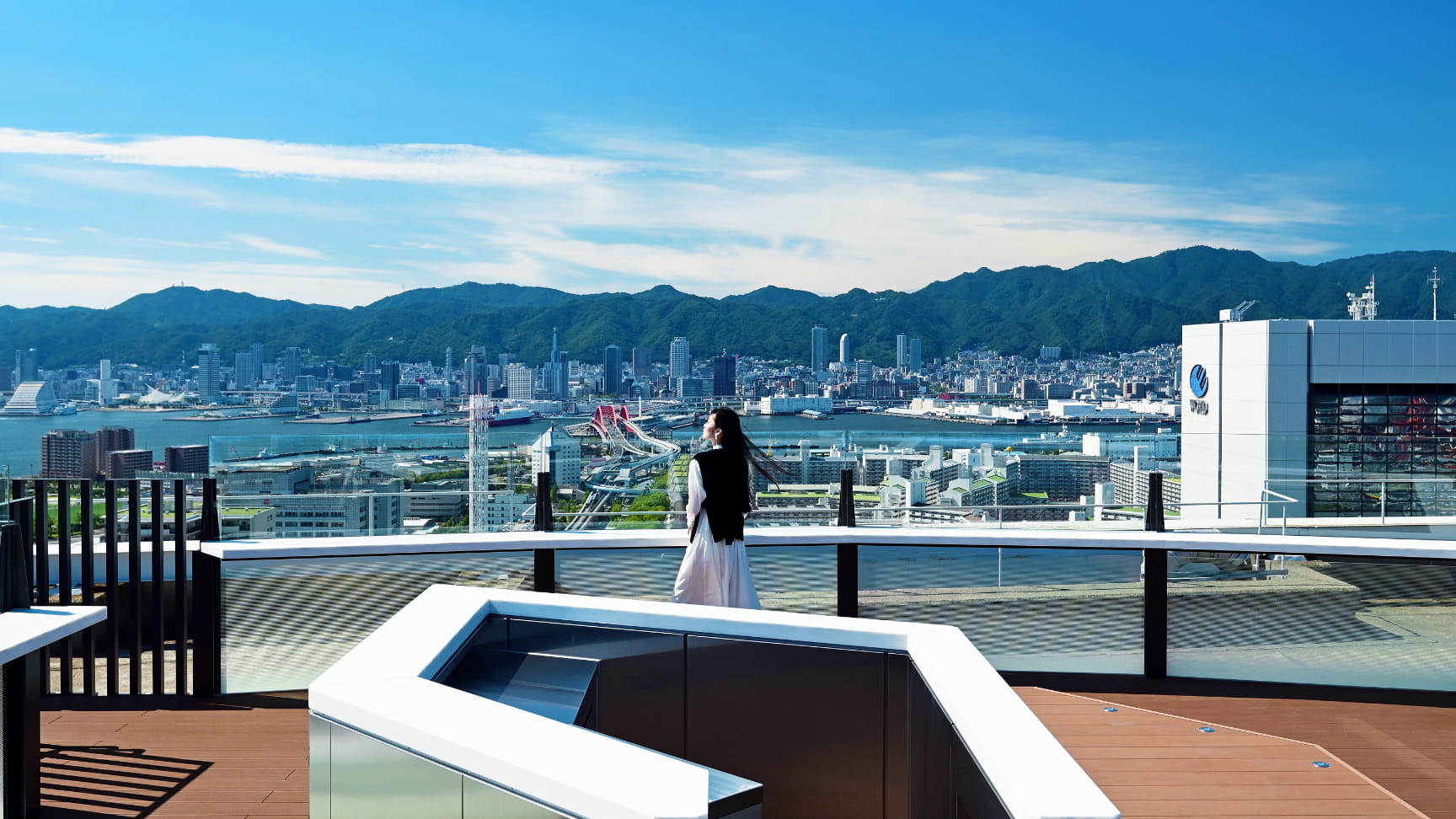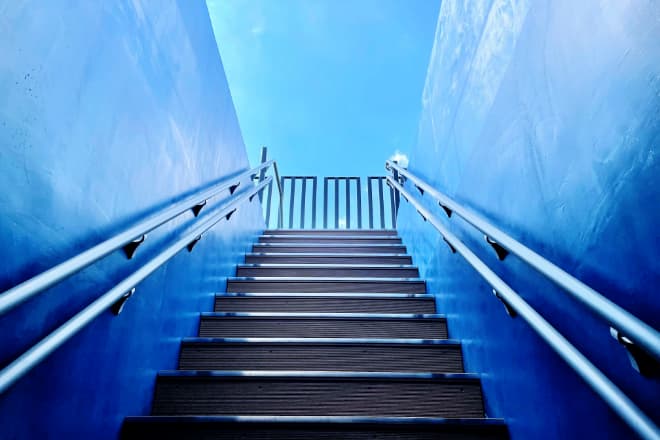 360°


Panorama View
Click here
to adjust the view.
Admission Times
Afternoon Sessions

13:00~15:00  

*Closed every Thursday for lunch except National holidays and Obon holidays

Night Sessions

18:00~22:00  

*In March and September and October, open at 17:00 on Saturdays, Sundays, National holidays

*In November and December, open at 16:30 on Saturdays, Sundays, National holidays

*Dec 31 - Jan 3;17:00-21:00
Closed during the coldest winter months

(2024/1/4~2/29)

.
Admission Fee
Afternoon

(including tax)

Adult (JHS student and older)

¥1,200

Child (elem. school student)

*children younger than elementary school age may not enter

¥1,000

Night

(with one drink, tax included)

Adult (JHS student and older)

¥2,000

Child (elem. school student)

*children younger than elementary school age may not enter

¥1,500
We may admission limit when crowded.
Cancellation policy: Free cancellation by the previous day, 100% charge for same-day cancellation (excluding cases when operations are canceled due to inclement weather)
Set plans including accommodation and/or restaurant dining are also available.
Guests staying or dining at the hotel will receive a special discount on admission (¥200 discount for afternoon sessions, ¥500 discount for night sessions).
Drinks will be available in bottles or cans. No food will be offered.
Drinks can be added and ordered via QR code purchases.
How to access Sorafune Kobe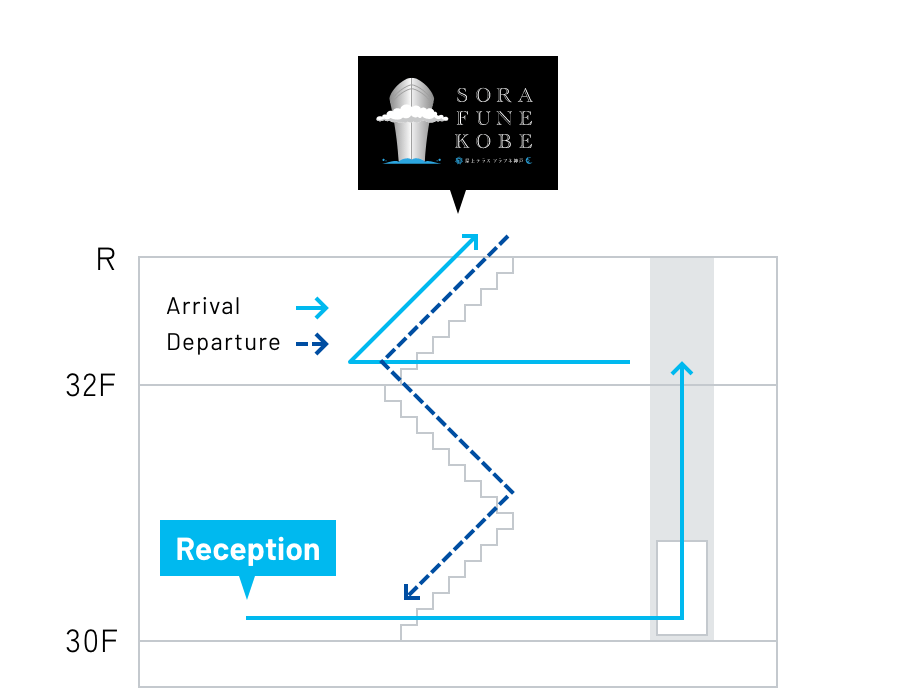 Arrival

Reception on the 30F of the Main Building (from five minutes prior to the reservation time)
Follow the staff members' directions and take the elevator to the 32F.
Take the stairs up to the roof.

Departure

Take the stairs down from the roof to the 30F.
Cautionary points
when making a reservation
Please take the stairs to reach the observation deck. Those with difficulty going up and down stairs themselves cannot visit the observation deck (approx. 40 steps up to arrive, and approx. 80 steps down to return).
All observation deck visitors must be elementary school age or older (elementary school and junior high school students must be accompanied by a parent or guardian).
Multiple discounts cannot be used together.
Please notify us regarding any cancellations by the previous day (a cancellation fee of 100% will be required for same-day cancellations).
Unplanned cancellations may occur due to inclement weather. When operations are canceled, admission fees will be refunded or exchanged for a coupon for other hotel facilities. Hotel guests with an accommodation plan including an admission pass will receive a ticket for hotel facilities.
Cautionary Points
for Sorafune Kobe
Restrictions apply to bringing purses or handbags, etc., onto the observation deck. Please refrain from bringing umbrellas or sun parasols. Lockers are provided, so along with any handbags, etc., please store items likely to blow away such as hats and scarves there. Please be aware that we may not be able to retrieve any items that blow away in the wind at the observation deck.
The hotel is not responsible for any damage to guest items that blow away or fall, etc., so please be careful with your belongings.
The use of tripods or selfie sticks, etc., is permitted when taking photographs, but please take care not to raise them too high and ensure they do not bother other guests. Please understand that we may ask you to refrain from using these items during crowded times.
Please refrain from behaviors such as carrying children on your shoulders or in your arms, etc., which can be dangerous during viewing on the observation deck.
For safety reasons, entry into areas other than the observation deck is strictly prohibited. Also, please be aware that guests who do not follow instructions from staff members may have to leave the observation deck.
Smoking, dangerous behaviors and bringing dangerous items are strictly forbidden.
Bringing your own food and drink is prohibited.
Please follow the staff members' instructions if the weather suddenly worsens or in emergency situations. Also, staff members may prohibit entry to the observation deck if they judge a situation to be dangerous.