About Salon de Beauté
1. Arrival.
 
Our color scheme reflects that of the ORLANE brand: blue and white.
The hallway connecting the main building to the south wing is designed to remind you of a harbor as you move between the two halves of the hotel. On the 5th floor of the south wing you will find the Salon de Beauté. We recommend calling or emailing ahead of time to make a reservation.
2. Consultation.
 
Our staff works with you to find the best treatment to suit your needs.
In our consultation room you will be able to discuss your areas of concern or what outcome you would like to see, and we will find a treatment that best suits your needs. Please do not feel embarrassed or hesitate with something you want to discuss. Our staff will listen kindly and with great respect.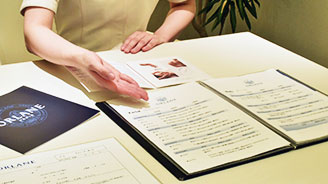 3. Changing Clothes.
 
We prepare a special outfit for you to change into for your treatment.
You will find a special ORLANE spa gown in the locker room. Please use the slippers provided while inside the Salon.
4. Treatment.
 
The moment to forget about time and let yourself be at peace.
After the consultation, you will begin the treatment. During which please relax to the fullest.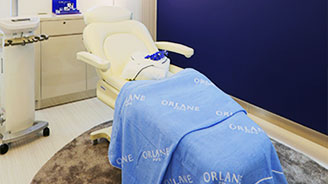 5. Post-treatment Tea and Counseling
After the treatment, take your time returning to the rest of your day by enjoying an herb tea in the powder room. If any additional concerns or questions came to mind during the treatment, our staff is available to discuss what you can do on your own at home.