【To Conference Organizers】

The Perfect Plan for Small Meetings!

Virtual Meeting Plan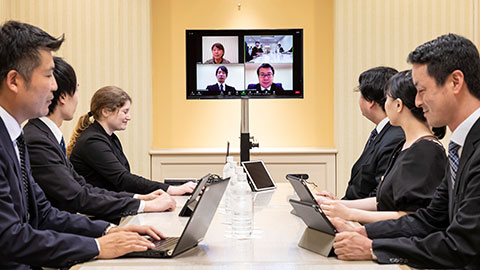 The perfect plan for holding online sessions from the comfort of Portopia's meeting rooms.
Available Period
Offer available until Thursday March 31st, 2022
No. of Members
2~12 people
Use Time
2 hours
Details

Included in the Plan: 

Meeting Room
Web Camera
32in. Monitor
External Speakers
Wi-Fi Set-up
Network Set-up

Guests are asked to prepare:  

Laptop(s) or other device(s)
WEB meeting account
Set-up a network or connection for those participating remotely

Price
Venue Fee + Equipment Fee : ¥105,000
(Every additional (1) hour is ¥15,000)
Plan Perks
1 free mineral water bottle per person
We are taking measures to ensure that customers can safely use the banquet hall(s) for meetings, events, dinners, etc.
---
※Contents are subject to change without notice.
※Connection speed may vary depending on other usage conditions.
※The price includes tax and service charge.
Contact us

+81-78-302-1130

Weekdays 9:30 a.m. - 6:00 p.m. 

Sat., Sun., Nat'l Holidays 10:00 a.m. - 5:00 p.m.